Product / Service:
Laboratory Consumables
Size of Company:
40+ employees
Year Founded:
1985
Website:
www.inorganicventures.com
Inorganic Ventures is a leading manufacturer of inorganic certified reference materialsA certified reference material (CRM) is a small bottle of fluid certified to contain microscopic amounts of elements from the periodic table. This fluid acts as a 'control' or standard which is used by analysts to calibrate their laboratory instrumentation. for scientific laboratories worldwide. They differ from other businesses I've helped in three ways:
They're a manufacturing-based business rather than a service provider.
They conduct business internationally, with representation in more than 50 countries.
They employed me in-house for 10 years until I departed in 2010 to begin my own business. It was an honor and a privilege to work with them.
Even though Inorganic Ventures wasn't a client of mine, much of the work I did for them is the same type of work I do today for smaller businesses.
Inorganic Ventures' Success with Smart Web Design*
The web design and marketing I did for Inorganic Ventures has brought them a great deal of success. In addition to serving as their Director of Marketing and Sales, I designed five websites for them during my employment. Upon the launch of their latest site in early 2010, they enjoyed some amazing results: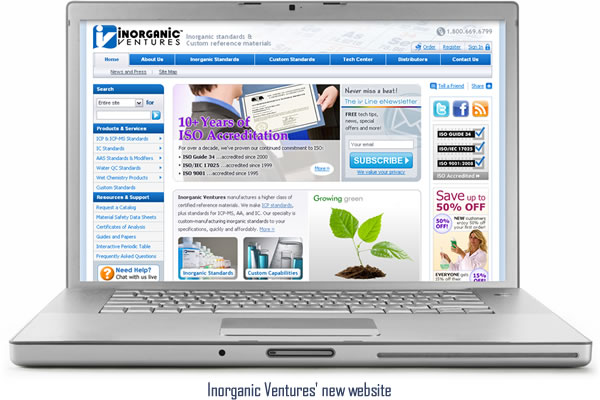 Ready to take your business to the next level?
Below, read how I helped Inorganic Ventures grow their business.
A Decade of Design and Marketing
I started working for Inorganic Ventures in 2000 as a customer service rep. But they quickly recognized that my design and computer talents could be put to better use. Within a few months, I was working full time on a new version of their corporate website.
Designing a Hit Website
The website I designed for Inorganic Ventures debuted in 2001. It was the first website I'd ever created. I got my hands on every web design and programming book I could find. I spent my weekends learning the ins and outs of user-friendly web development. I wanted my first website to be a big success.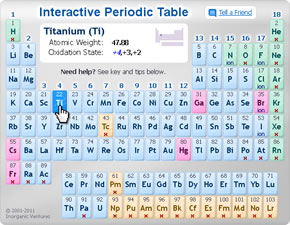 The key was making it "sticky."
A sticky website provides so much excellent content that visitors can't help but "stick" around. This was my first foray into content marketing. I strongly believed it would make our site a hit. I worked with the owner of the company, a brilliant chemist named Paul Gaines, to provide unique features like Ask Paul: Technical Troubleshooter and dozens of highly detailed articles to help analytical chemists everywhere. I also created an Interactive Periodic Table (picturied). It remains one of Inorganic Ventures' most popular features.
Within a couple of years, many of our competitors began to follow our lead. But Inorganic Ventures was the first company within the CRM industry to deliver pages upon pages of outstanding web content.
"Inorganic Ventures' website is by far the best website of its kind that I have come across. The only downside is that when I visit other chemistry/analytical websites, I am invariably disappointed as I cannot help but compare them to Inorganic Ventures' site!"
— B. Alexander, International University Bremen
Since that first website launched, I developed several more for Inorganic Ventures, including a product administration site, a distributor site and two redesigns of their commercial site. Through every site I constructed, I further honed my design and communication skills.
The 2010 redesign of Inorganic Ventures' website included:
Over 1,350 individual web pages
More than 950 products
A custom e-commerce system
150+ technical articles
A custom news module with RSS feed
A colleague of mine suggested it would take a team of experienced web developers and tens of thousands of dollars to put together a site of this scope and quality. It turns out it just took one talented web guy and the inspiration of a company like Inorganic Ventures.
From Design to Marketing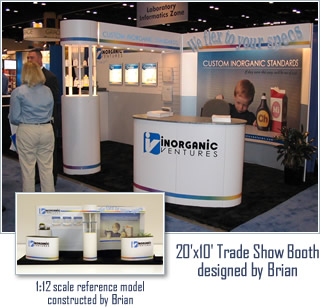 Throughout my work on Inorganic Ventures' website, I also lent my creative talents to dozens of other projects. I designed flyers, postcards, letterhead, labels, logos, tabletop displays, advertisements and catalogs. I was even given the challenge of designing a 20'x10' trade show booth (pictured).
The senior managers were shrewd. They recognized another talent in me — one I didn't even realize I possessed: marketing.
In 2003, I began working more closely with Inorganic Ventures' Sales Manager. He had a background in marketing and turned out to be an excellent coach. A year later, I was promoted to Marketing Manger. My chief assignment?
"Do what you did with the new website, but for the entire company."
A challenge. Awesome.
---
Creating a Corporate Brand
Throughout 2004, I read dozens of books on marketing strategy and positioning. I conducted an intensive market analysis of the entire certified reference materialA certified reference material (CRM) is a small bottle of fluid certified to contain microscopic amounts of elements from the periodic table. This fluid acts as a 'control' or standard which is used by analysts to calibrate their laboratory instrumentation. industry. I looked at our competitors, pricing and selling points. I saw it all through the eyes of a designer, giving me a unique edge.
My in-depth market analysis yielded a 60+ page marketing proposal with reports on 11 key competitors, a three year marketing timeline and a detailed Plan of Attack. Additionally, it outlined the right message for Inorganic Ventures — one that would cement them in the minds of their prospects and customers.
A Message of Flexibility
As a smaller, more nimble manufacturer, one that specialized in inorganic manufacturing, Inorganic Ventures could meet just about any customer request. Rush manufacturing? No problem. Overnight shipping? You got it. Custom products? Absolutely. In fact, custom manufacturing comprised over 50% of their business.
Inorganic Ventures is THE flexible manufacturer. The competition can't touch them. This unique selling point is uniquely theirs. It can't be stolen. It can't be copied.

I presented my marketing proposal to the owners of the company in late 2004. At the heart of my proposal was the concept of flexibility and a new corporate slogan: We Flex to Your Specs. I designed a logo (above) and proceeded to trademark it for the company's use. I also worked my copywriting mojo to draft the company's new formal mission statement.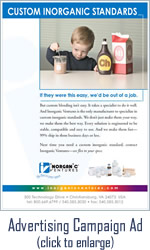 In addition, I had quite a bit of fun devising an advertising campaign to promote the company's flexibility — particularly their custom manufacturing. I directed a photo shoot with the help of a professional photographer. Then I shared my concept with Anthony Gualano of Triton Design Studios. I worked with him to translate my ideas into the ad seen at right. This ad has appeared in countless industry publications.
Changing the Face of a Corporation
Up until that time, Inorganic Ventures' design was largely fragmented. Due to a previous merger, even the name of the company was inconsistent. Some materials were branded with Inorganic Ventures. Some with IV Labs. Some with Inorganic Ventures/IV Labs. There was no continuity. And without consistency, I knew the brand would never gain a foothold.
So I made it my primary objective to design a unified image that would promote their quality, professionalism and flexibility, starting with their logo. I redesigned their logo to hint at flexibility by using the same "swoosh" found in the slogan. Shortly thereafter, we adopted a branding policy to consistently refer to the company as Inorganic Ventures.

"Brian has a special eye for creativity and attention to detail. I've truly appreciated his ability to immediately understand new project ideas and to transform them into reality."
— Jeffrey Itle, Foreign Distribution Manager, Inorganic Ventures
I felt Inorganic Ventures needed a clean and professional appearance. The final design featured a plain white background and a thin band of color known as a spectrum. In 2005, I put on my designer's cap and systematically applied this design to all of Inorganic Ventures' marketing materials:
labels
letterhead
catalogs

websites
brochures
sales kits

trade show booth (see above picture)
newsletter
promotional materials
The new face of Inorganic Ventures was born…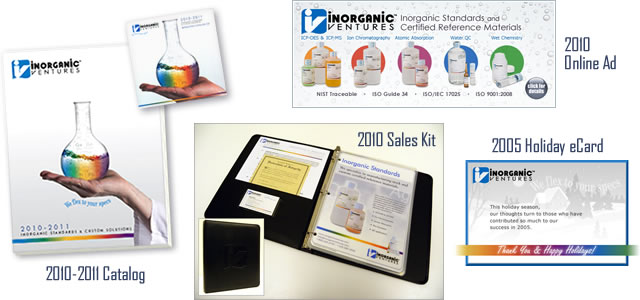 The Result?
The unified image and "flexible" message of Inorganic Ventures helped them gain worldwide brand recognition. Sales increased both at home and abroad. More and more people began to recognize the company at trade shows. Inorganic Ventures had become a major player in the market.
During the time I headed their marketing and web design, they experienced a 165% increase in sales revenue. Today, Inorganic Ventures is a multimillion dollar corporation with healthy prospects for continued long-term success.
I've helped Inorganic Ventures grow their business in huge ways.
Ready to take your business to the next level?