Product / Service:
Weight Loss Surgery
Size of Company:
8 employees
Year Founded:
2002
Website:
www.njbariatricspc.com
New Jersey Bariatrics is home to two NJ bariatric surgeons that specialize in weight loss surgery. They'd hired a web development firm to redo their website. After dozens of delays, poor quality work and a lot of frustration, they decided to cut their losses. I was delighted to take over the project.
NJ Bariatrics' Success with Smart Web Design*
While developing a new site for NJ Bariatrics, I researched their market, top competitors and I studied their interaction with patients. My goal was to create a site that would generate more foot traffic for their office. The project took about seven weeks. After only three months, they were already reaping the rewards:
Ready to take your business to the next level?
Below, read how I helped NJ Bariatrics grow their business.
From Rock Bottom to Results
Let me begin by pointing out that the CEO of NJ Bariatrics, Dr. Robert Brolin, is also my father. When he prepared to launch his practice back in 2002, he asked me to create his original website. NJ Bariatrics received a ton of business from that site. But as the years passed, the site began to look its age.
Hiring a Web Development Firm
As time went on, I suggested to my father that he needed a new website. When his business began to slow in the summer of 2010, he agreed. However, my own schedule was filled at the time. Since his needs were urgent, he did a little research and hired a local web design firm.
Their site featured beautiful work and glowing testimonials. They seemed to know what they were doing. So my father provided everything they needed in order to redo the NJ Bariatrics site. They agreed on a six week timetable to meet my father's urgent business objectives.
In his words, "It was a DISASTER!"
Their six week timetable stretched into eight. Then ten. Then twelve. They offered no apologies. What's more, they refused to give a definitive launch date. He felt powerless.
Doing the Job Wrong
Eventually, after months of delay, the firm launched NJ Bariatrics' new website. My father asked me to take a look. I was appalled at what I saw:
More than 20% of the links didn't work.
"Bariatrics" was spelled "Bariatricks" throughout the entire site (including their business name).
There were July events posted on the home page – it was now October.
All search engine optimization had been stripped from the site (only an SEO expert would've noticed this).
I immediately urged my father to roll back to his original website. I knew that this new site would actually hurt his business. They'd lose their Google rankings in a matter of days.
My father felt cheated, but he still had hope…
"After many months of wrangling, I chose to sever ties with the firm. Meanwhile, Brian had just started his own business as a full time web designer and marketer, so I asked him to take over the project as soon as he could."
— Dr. Robert Brolin, CEO, NJ Bariatrics
Doing the Job Right
My work on NJ Bariatrics new website began in late December. My goal was to give them a site with the potential to double their business. I estimated six to eight weeks of market research, copywriting and build time. The site launched in early February, right on schedule.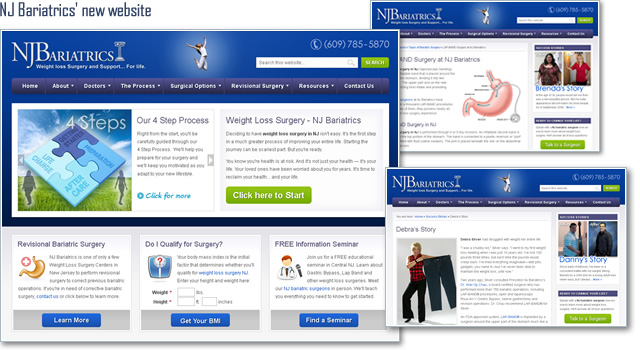 "After a thorough and personalized investigation of the nature of our business and its marketing needs, Brian created our current website. Our traffic and correspondence tripled within 1-2 weeks of the launch! His design work, writing and search engine optimization far exceeded what we were able to glean from our previous web design firm."
— Dr. Robert Brolin, CEO, NJ Bariatrics
The Result?
There are many web design firms that aren't committed to growing their clients' business. For them, it's just another website — one more feather in their cap. But I had no idea how bad it could be until I saw the product of one of these firms. Luckily I was able to save NJ Bariatrics before any serious damage had been done to their rankings or reputation.
Now they enjoy triple the number of web-based inquiries and a 255% increase in meaningful trafficA term I coined that factors in bounce rate, providing a more accurate picture of targeted visitor traffic.. That's the power of "smart" web design.
---
Promoting the Right Message
To grow a business, it's important to promote your message. But if you're not promoting the right message, it doesn't matter how much money you spend. You're fighting an uphill battle.
As I created a new website for NJ Bariatrics, I realized that their message — their unique selling point (USP) wasn't clear. They didn't offer prospective patients a unique reason to choose NJ Bariatrics over competing practices.
Emphasizing a Unique Selling Point
The importance of a USP cannot be understated. Competition is everywhere. Our decision making process depends on being able to differentiate one company from another. Sometimes we differentiate on price. Sometimes it's features. Sometimes quality. But there's always something that attracts us to a specific product or service. Discovering NJ Bariatrics USP would be critical to improving their bottom line.
As I studied NJ Bariatrics and contrasted them with their competitors, I noted a couple of things that really set them apart:
Their size. They were smaller than the majority of their competitors.
Their support. Their patients raved about their support network, both pre-op and post-op.
In fact, I'd guess that their smaller size directly correlates to the quality of their support. It helps them connect more intimately with their patients than larger practices. This was their USP. Unfortunately it was completely absent from their marketing efforts.
I made it my goal to change that.
Weaving their Message into their Website
I started by changing their tagline to Weight Loss Surgery and Support… For Life. Not only does this new tagline clarify what they do (great for anyone unfamiliar with the term "bariatrics"), but it also presents their USP with a clever double meaning: lifelong support + life-saving support.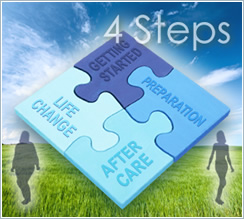 Next I worked on their copywriting. I wanted to express how the NJ Bariatrics staff fully support their patients every step of the way. So it made sense to break their process into actual steps. I designed an eye-catching puzzle graphic to convey these steps visually, making the whole process easier to digest.
I created different sections of the website to discuss each piece of the puzzle. I carefully crafted the words I used on each page. My goal was to show that NJ Bariatrics had a deep understanding of the challenges their patients faced, both before and after surgery. I wrote in a conversational tone with emotion and sincerity. I wanted people to feel the compassion radiating from each page.
The Result?
Within a week of launching NJ Bariatrics' new website their number of office consultations doubled. People were getting the message: If you're seeking a smaller practice that offers long term individualized support, you want NJ Bariatrics.
Today prospective patients have a definitive reason to choose NJ Bariatrics over one of their many competitors. Their support is unparallelled.
---
Search Engine Marketing Success
To succeed online today, you have to be found. Enter the search engines: Google, Yahoo and Bing. To rank in the top 10 among hundreds of thousands of websites requires an art known as Search Engine Optimization (SEO). This is an ongoing process, requiring regular website tweaks to move a website up the ladder and keep it on top.
Keyword Competition is Fierce
I began NJ Bariatrics' SEO work by determining which keyword phrases to target. Not all keywords are equal. Some are searched on more than others. That makes the competition fierce when trying to hit the first page for those more popular keywords.
In NJ Bariatrics case, the number of bariatric surgeons practicing in New Jersey has grown tenfold over the past decade. Achieving top rankings for their keywords would be considerably more difficult.
Luckily, I had done some SEO work on NJ Bariatrics' original website in years prior. So I wasn't starting from scratch. Still, their rankings had slipped and it was up to me to pull them back up. I set my sights on boosting NJ Bariatrics into Google's top 3 for their most popular search terms.
Thorough, Ethical SEO
To improve NJ Bariatrics' rankings (and keep them high), I use a variety of strategies. Every method I use conforms with Google's Best Practices, so they're ethical and effective.
To keep the price of my SEO services reasonable, I focus my efforts exclusively on ranking well in Google. I chose Google for two reasons:
Google is the most popular search engine.
If a site ranks well in Google, it generally ranks well in Bing and Yahoo.
In addition to traditional SEO, I also manage NJ Bariatrics Google Adwords account (paid searchPaid seach refers to the sponsored ads displayed on search engine results pages. These ads are often highlighted at the top of the page, or they appear offset in the right sidebar.). After the new site launched, I made several tweaks to optimize existing ads. Plus I created several new ads, all of which have been performing well.
The Result?
NJ Bariatrics ranks in Google's top 3 for their most popular keyword phrases, plus two #1 rankings. Additionally, they rank within Google's top 10 for every other keyword phrase I targeted (9 total). Hundreds of new prospective patients are discovering NJ Bariatrics everyday.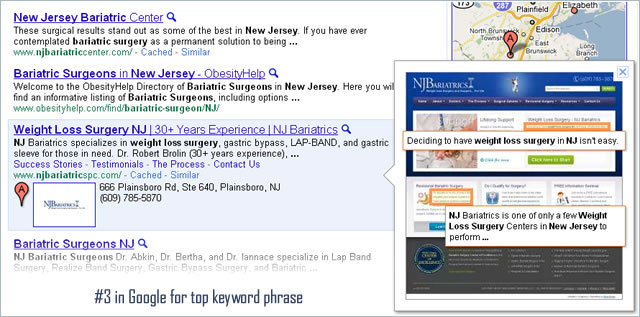 I've helped NJ Bariatrics grow their business in some amazing ways.
Ready to take your business to the next level?