Product / Service:
World of Warcraft fansite
Size of Company:
4 volunteers
Year Founded:
2007
Website:
www.warcraftpets.com
WarcraftPets.com is my own pet project (excuse the pun). It's a fansite for players of World of WarcraftWorld of Warcraft is a massively multiplayer online role-playing game. Each player creates and controls a unique character that interacts with other player-made characters in a giant virtual game world., the widely popular PC game. In 2007, I recognized the need for such a site so that collectors of the many in-game pets could easily find out how to obtain each one. Since then, the site has grown to epic proportions.
WarcraftPets' Success with Smart Web Design*
The success of WarcraftPets is no accident. It comes thanks to a series of calculated decisions I made which involved creative branding, community development, search engine optimization and strategic expansion. Today the site draws HUGE crowds:
Over 25,000 visits per day
Over 125,000 page views per day (annual average)
More than 75,000 active user accounts
150+ new user accounts per day
More than 2.5 million backlinks
Over 10,000 site comments
Ranked #1 in Google for ALL targeted keyword phrases
Ready to take your business to the next level?
Below, read how I made WarcraftPets the #1 website in its niche.
Creating a Wildly Successful Website
When I began planning WarcraftPets, I had a single mission: make it the #1 website within its niche. Completing that mission would require smart, design-focused marketing — my specialty.
Designing a Site From the Ground Up
WarcraftPets gave me the opportunity to apply the marketing and web design skills I'd developed throughout my professional career. It also gave me the chance to practice my programming and database skills. The entire site was single-handedly developed from scratch. It provided me with a giant blank canvas to let my creativity run wild.
In choosing the name, I did my homework. The top keyword phrase in Google was wow pets. Unfortunately, wowpets.com was unavailable. So I went with the second most popular phrase. Anticipating a lot of word-of-mouth marketing, I chose to build the .com into the name and logo, à la Amazon.com.
Know thy Audience
I realized that my target audience was going to have an eye for the "cute and cuddly." Over 80% of World of Warcraft's playerbase is male, but in-game pet collecting is more common among female players. So I wanted to give the site a little more feminine appeal than similar fansites. To this end, I chose a softer color palette with blues and purples. I decided upon a quirky little female gnome to be the brand mascot (more on her below). Lastly, I created the logo to hint at a cuddly critter.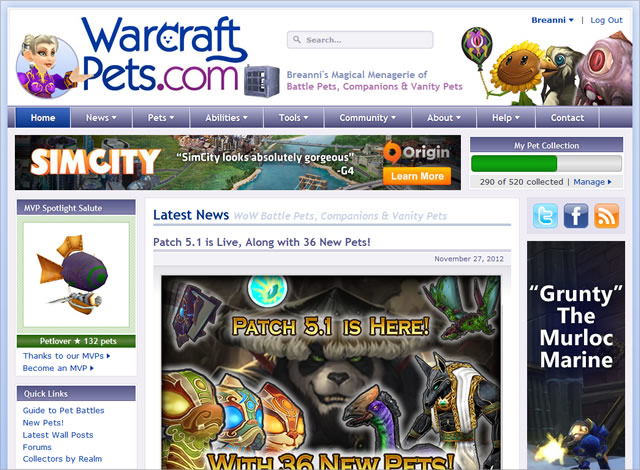 Give the People What They Want
When the site launched, it didn't take long for word to spread. I did some promotion of my own through the game's forums. I also continued to refine my SEO strategy so the site would begin to rank in Google. But more than anything else, I listened.
In the early days of the site, I constantly requested feedback and suggestions. Why? Because your audience knows what they want. When you develop the content they're looking for, you not only satisfy their needs, but you also attract others with the same needs. Your audience grows. And because you're so responsive to them, they're eager to tell their friends. So the community continues to grow and you receive even more suggestions, allowing you to create more custom content, thereby attracting even more visitors. It's a beautiful cycle.
I made dozens of changes and additions to the site during it's first few months based solely on visitor feedback. It's something we still do today.
Moving into Phase II
About eight months after the site launched, it had already become THE place to go for World of Warcraft pet information. But I had even bigger plans…
When I first conceived of WarcraftPets, I knew it could be an excellent tool for players to track their pet collections. They could build and save a dynamic list of the pets they were seeking and check them off as they were collected. I did this myself offline, so I knew there was a need. But adding user accounts to the site brought a ton of overhead. I spent a number of weekends and countless weeknights fine-tuning the account creation process and collection tracking tool. But it paid off…
In the first two weeks alone, over 3,000 people signed up. I couldn't believe it! I expected growth, but not on that scale. In addition, my web traffic skyrocketed as new users spread the word faster than ever before.
Shifting to Macromanagement
Managing a growing community of thousands brought about a whole new set of challenges. I spent my off hours providing regular user support, moderating the Top 50 Collections list, and answering tons of email. What started out as a hobby had now become a second job.
I needed help.
In the summer of 2008, as the number of registered users rose to 12,000, I began searching for two volunteers: one to help manage the growing community, and the other to help in preparing regular news updates. Eighteen months later, I brought on a third admin to handle the programming and provide additional security. I had successfully shifted my role from micromanagement to macromanagement. This freed me up to focus on my twin passions: design and marketing.
Today, I continue to oversee the site and guide it's development. I handle all of the business decisions, as well as nearly all of the graphic design. A bit of my more recent handiwork appears below:

The Result?
Currently WarcraftPets.com receives an average of 25,000 visits per day, with traffic spikes in excess of 50,000. It's first 18 months of unprecedented growth proved the power of feedback-driven development and word-of-mouth marketing. Additionally, through the power of networking and brand recognition, I've begun to develop a relationship with Blizzard Entertainment, Inc., the game's developer.
---
Breanni, a Brand Mascot
Brands have been using mascots for years. They help products and services gain traction in the mind. This is especially true of those cute and cuddly mascots like the Energizer Bunny and The Pillsbury Doughboy.
When I began to develop WarcraftPets, it occurred to me that a brand mascot would be just the thing to get the ball rolling. Breanni was born.
Who's Breanni?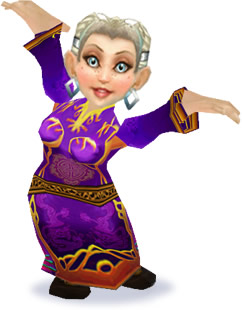 Breanni is actually one of my own World of WarcraftWorld of Warcraft is a massively multiplayer online role-playing game. Each player creates and controls a unique character that interacts with other player-made characters in a giant virtual game world. characters. She was an obvious choice to use as WarcraftPets' brand mascot for two reasons:
As a gnome, she exemplifies cute and cuddly.
The original inspiration for the site was a text-based guide to pet collecting that I posted on the official Warcraft forums. I logged in as "Breanni" to post the guide, so my core audience was already familiar with the name.
Through Breanni, I knew I could build brand recognition and visitor loyalty, two crucial ingredients for growing any website.
Breathing Life into a Mascot
A brand mascot is essentially a fictional character designed to make a brand more memorable. Up to this point, Breanni had simply been an online alias for me. In order for her to do her job as WarcraftPets' mascot, it was up to me to breathe some life into her.
I gave Breanni three personality traits that I knew would endear her to others:
A quirky sense of humor – She uses puns that are so bad, you just have to love her.
A pop culture queen – Lots of references to popular movies and TV shows.
A Napoleon complex – What can I say? She's short. 😉
The site was seeded with Breanni's name and image. What probably makes her most memorable are her humorous 'Breanni Says' pet commentaries, like the one below.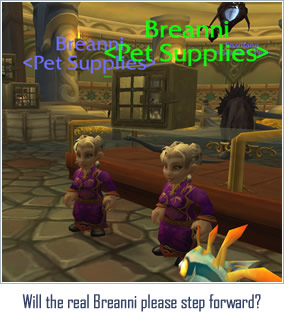 In 2008, a few of the game's content developers (who had clearly become fans of the site) decided to make Breanni a permanent fixture within the World of Warcraft. They recreated an exact replica of my character and made her into a vendor that sells pets and pet supplies. The developers also programmed her to occasionally send actual in-game pets to players who achieved certain pet collecting milestones.
Breanni became even more popular and brought many new fans to WarcraftPets.
The Result?
Because of the power Breanni wields as a lovable mascot (and because I continue to use her name as my own alias within the community), I've been asked to do several interviews. I'm probably best known for a two-page spread in the first issue of World of Warcraft's official magazine. The PR has been great.
Today, every pet collector knows the name "Breanni" and WarcraftPets is one of the most well-known World of Warcraft fansites.
---
Supporting a 75,000+ Member Community
Through every website I've created, there's been one constant truth: it's your visitors that make your website a success. They're your most valuable resource. Treat them well… always.
"Brian has grown WarcraftPets.com from a simple database site into a thriving community. He offers the best customer service I've ever seen from such a heavily trafficked website."
— Curtis Mueller, Fellow Fansite Administrator
Exceeding Their Expectations
From the very beginning, I made it a point to provide excellent customer service to the WarcraftPets community. It doesn't matter that they're not actually buying anything. If you provide exceptional service, people come back (and they often bring their friends).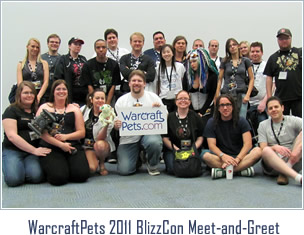 We're committed to being courteous and responsive. We try to answer questions quickly (usually within a day). Account issues and bugs are handled equally as fast. When news breaks, we'll prepare and publish a news story before the end of the day. It's a team effort. I'm lucky to have such wonderful volunteers.
To aide our community with their pet collecting efforts, we've added many new features to the site. We also run periodic contests, do promotional giveaways through social media, and host live Meet-and-Greet events at BlizzCon, Blizzard Entertainment's annual trade show.
When you treat your community well, something remarkable happens — they reciprocate.
The Result?
Our community is as committed to us as we are to them. They support us with donations, user-submitted content and constant word-of-mouth marketing. Likewise, we remain deeply committed to providing our tens of thousands of visitors with an extraordinary web browsing experience. They deserve nothing less.
I've grown WarcraftPets into the #1 website in its niche.
Ready to take your business to the next level?