When you work with me, you get a marketing consultant AND a web designer. I'd love to coach you on how to grow your business via the web.
I can't teach you everything. But I can give you a steady stream of tips and strategies that will boost your revenue.
"Upon completing my new site, Brian provided training on using Twitter and blogging, and held my hand through the first few posts and tweets."
— Amy Eisenstein, Tri Point Fundraising
Smarter Web Design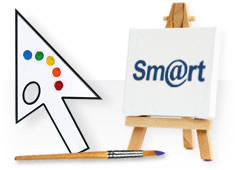 I create websites using a process called smart web design.
It helps me build a smarter web presence for each of my clients. And a smarter web presence can grow your business in some remarkable ways.
When your web presence is "smart," it means you look professional, with a website that's easy to use.
It means you stand out among your competition, attracting more customers, more traffic and more fans to your business.
It means your website works 24/7 to pull visitors to your cause. In other words, your business is working for you rather than the other way around.
Curious about smart web design? Learn more »
A smarter web presence could double or triple your business.
Is your business ready for a growth spurt?