You contact me. You'll tell me a little about your business and your goals. You'll also provide your website's web address (if you have one).
I reply. Typically I'll get back to you within 1-2 business days. I'll ask you a few questions. If it makes sense for us to work together, we'll schedule a voice call (by phone or Skype).
We talk. I'll learn more about your business and market. We'll discuss some preliminary ideas to grow your business online. Shortly thereafter, I'll provide you with a quote based on our discussion.
I research. I'll look at your competitors. I'll research your market. Then I'll determine which tactics will work best to grow your business via your web presence.
I create. This is the most fun part for me, in which I turn my research into design. As I create, I'll share my progress with you. Your feedback is always welcome.
We work together. At this point, we'll begin working together on a regular basis to keep your Internet marketing efforts on track. You have no contractual obligations. You may retain my services for as long as you like.
Working One on One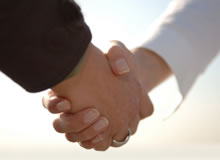 Unlike a marketing and design firm, you and I will work together, one on one. There are no account executives. No customer service reps. You speak to me, your marketing strategist and designer, every time.
Not only does this give you piece of mind, but it also helps me get to know your business, thereby improving your results.
Constant Communication
I believe in constant communication. You deserve to know where things stand with a given project on a regular basis.
My preferred method is email, but I'm just as comfortable on the phone.
So what will it cost? Pricing »
A smarter web presence could double or triple your business.
Is your business ready for a growth spurt?